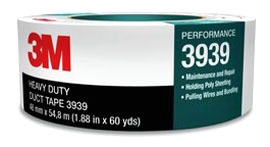 There is nothing in the world that cannot be fixed with Duct Tape.
I once owned a red compact car. Driving to work one day a pheasant decided to take on my front bumper. His sacrifice to his fellow car hating, feathered friends was not in vein. He charged my bumper and with a blast of feathers, the bumper was in pieces. Not having a lot of spare time (or money) at the time, the perfect solution was duct tape! Even better, RED duct tape! Problem solved.
3M™ Heavy Duty Duct Tape 3939 has the tensile strength and adhesion for splicing, masking, patching, seaming, hanging poly sheeting, sealing PVC pipes, covering trip hazards and a host of other industrial applications.
Industrial-grade duct tape for splicing, masking, patching, sealing and seaming
High tensile strength for a secure hold under stress
Thick rubber adhesive bonds to most rough and smooth surfaces for a tight seal
Silver polyethylene surface resists wear, abrasion and water
So no matter what your need, whether taping a bumper together or your younger brother to a tree, 3M Heavy Duty Duct Tape 3939 is the product for you!
~Woody
---